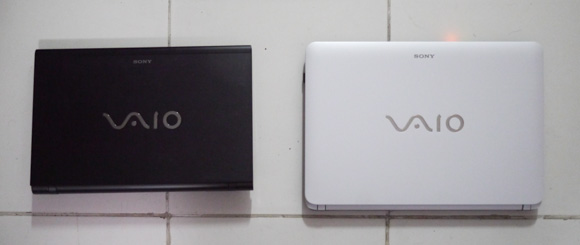 Three and a half years ago I bought an expensive Sony Vaio Z in order to be able to work throughout my original 2-year trip across North and Central America. That 13.3″ Vaio was pretty powerful and had a nice screen. But more often than not it gave a headache. The first time I had to sent it to repair was still in Germany just a month after I got it. The second time was during the trip in Boston, which took them forever to fix. Eventually, the screen showed some permanent damage in the form of vertical streaks of dead pixels that drove me insane. Anyway, I didn't have the money to buy a new one, so I kept using it whenever I traveled.
The last few weeks before this trip to Panama and Costa Rica have been pretty intense. Plenty of work with tight deadlines. In general I think it's not good to bring work to your vacation but I didn't have much of a choice. The first few days in Panama I spent in a small beach hut with my Panamanian friend, a fridge full of beer and WiFi. Good conditions to get some of the urgent work done. Until… the power went off for hours. And when it came back on I realized it had killed the computer. Nooooooooo…. ! Whenever I tried to turn it on, it would power off after a few seconds. Stuck at the beach with a broken laptop and some tight deadlines sucks. I swore to myself never to buy a Sony laptop again…
The next morning my friend and I went back to Panama City. He found a small computer repair shop that would get the harddisk out of the laptop. Then we went to the Albrook mall, one of the large shopping malls here to buy a new one. Electronics are fairly cheap in Panama, cheaper than Germany or Costa Rica. But even though we went to several stores, the choices were very limited. I wanted a Lenovo since they have a reputation for good built quality but most laptops they had for sale were – you guessed it – Sony Vaios. Eventually, I decided for a cheap model for 450€ with 6GB or RAM and 1TB hard disk. It's not as compact and fast as the old one and the screen isn't that great either but for that price I don't care as long as I have some computer to work with. Oh, and the keyboard and operating systems are all in Spanish, yeay. This should speed up my attempt to learn Spanish considerably, ha. I'd have to upgrade to Windows Pro for $140 to be able to change the language, so I'll just leave it for now.
I must admit without a computer I felt a little amputated. It took me a day to copy all the files and install the most important programs (thanks to Adobe Creative Cloud and Ninite) and now that feeling has vanished.