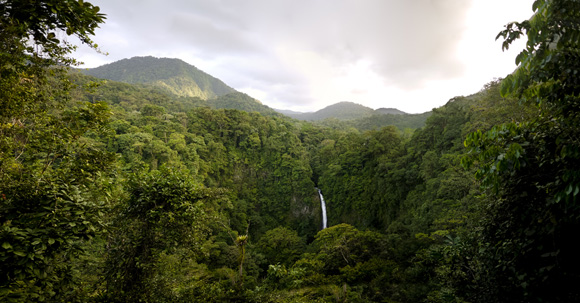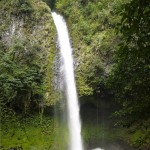 I'm again visiting my American friend D'Angelo in La Fortuna, the cute little town by volcán Arenal.
There is plenty of activities to do around Fortuna and some of the scenery here is pretty spectacular. Today I went to the nearby waterfall Catarata la Fortuna.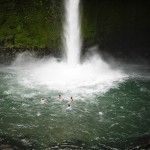 The waterfall drops about 70 meters and is located at the base of a dormant volcano. At the bottom of the waterfall is a small pool in which you can swim. Considering the fact that this is a river, the water temperature was surprisingly pleasant. I tried to swim to the center but there was too much water coming down, pushing you away as you try to get too close. What a shame. I would have loved to know how this kind of shower feels like.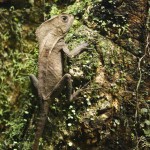 On the way back up I saw a brown lizard sitting on a huge tree. Well, I love reptiles and this one made my day. He was sitting in a perfect position to be photographed and didn't mind the many photos we took of him, some with flash, some close up… I am not sure which species this is, I suspect some sort of basilisk.
Some of the volcanoes in the La Fortuna area still active. Therefore it's not surprising that several hot springs exist here. Essentially, it's a shallow river with warm water. We went there after midnight. Despite the time several young ticos were hanging out there still. Seems like this place is equally popular with tourists and locals. It's not hard to see why. Relaxing in a warm river at moonshine is quite a unique experience.