It's only my third day in Guatemala and I made it to Semuc Champey, a very beautiful but somewhat remote area of the Cahabòn river in central Guatemala. The place only opened as a tourist destination about a year ago. There is little choice of accomodation here and backpackers seem to be the only visitors. That's a good thing. Our hostel 'El Portal', the Mayan owners and tour guides and even the other travelers are great. Marissa, my temporary travel companion from Chicago, and me decided to book the full package here.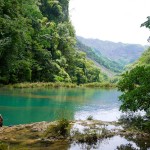 In the morning we went for a steep hike up the mirador, a lookout over-viewing the entire crystal-clear blue river.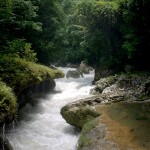 From there we hiked down to the river and across the different terraces, which involved lots of jumping from one level to an other, sliding and diving into a tiny underwater cave. All in all very beautiful and exciting. Back to the hostel for lunch break and then going for some tubing along the river. The descent current and big rocks to avoid made that more fun than I expected.
The highlight of the day was our cave trip. Our Mayan tour guides are only 18 and 22 year old, great, entertaining, somewhat fluent in English. But at times they did not give us the full information about what to expect. For example about the cave trip. We had no idea what would await us. We entered the cave just above a waterfall. Each of us was given a candle. The cave was pretty far streched out. At times we could wade through the water. At other times we were immersed til the neck and then there were several stretches where we had to swim with the candle in one hand (and in my case, the camera in a ziplock bag in the other). At certain parts the current was so strong that it would take our flip-flops off our feets. So, I took them off and carried them between my teeth. Another part of the problem were the random sharp-edged underwater rocks that I kept cutting my feet on. Sometimes the candles got wet and went out. And then there were ladders up and down. This wasn't for pussies, hello! And a tour guide that didn't seem to care too much about losing any member of the group. At some point the Spanish guy (Nacho) and me were so far behind that we were out of sight from the rest of the group. We did find our way out. Certainly the most exciting cave trip ever.
Back to the hostel some of the American travelers decided to jump from the nearby bridge into the river. It's about 10 m high. Though I was hesitating I did decide to jump, too (no pictures for evidence, sorry). What a great day.